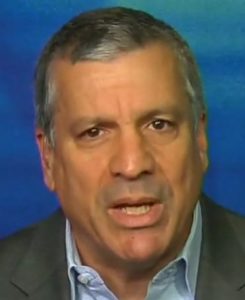 Charles Gasparino is an American journalist, blogger, occasional radio host, and author. He frequently serves as a guest panelist on the Fox Business Network program segment The Cost Of Freedom and the stocks/business news program Cashin' In.
Gasparino was born to an Italian-American family in the Bronx, Gasparino graduated with a B.A. from Pace University before earning his master's degree in journalism from the University of Missouri in Columbia, Missouri.
Gasparino was previously a senior writer for Newsweek, where he covered politics, Wall Street, and corporate America. Before working at Newsweek, Gasparino was a reporter for The Wall Street Journal.
Book: The Sellout: How Wall Street Greed and Government Mismanagement Destroyed America's Global Financial System
Book: Bought and Paid For: The Unholy Alliance Between Barack Obama and Wall Street
Book: King of the Club: Richard Grasso and the Survival of the New York Stock Exchange
Book: Blood on the Street: The Sensational Inside Story of How Wall Street Analysts Duped a Generation of Investors