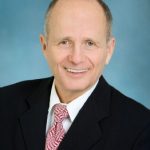 Gary J. Aguirre is an American lawyer, former investigator with the United States Securities and Exchange Commission (SEC) and whistleblower.
After working in a law firm briefly, he became a public defender, then worked as a trial lawyer in California. Having reached his professional and financial goals, he took an extended break in 1995. In 2000, he decided to go into public service and went back to law school, focusing on international and securities law.
After earning his second law degree, he applied for a job with the SEC, where he became the lead investigator on an insider trading case involving Pequot Capital Management. Suspecting the leaked information came from John J. Mack, a Wall Street titan and major contributor to the 2004 campaign of President George W. Bush, Aguirre wanted to subpoena Mack, but supervisors told him Mack had too much "political clout" and would not be pursued. Aguirre complained to a superior about the preferential treatment being given Mack and was fired without warning. A Senate investigation later found his termination to have been an illegal reprisal.[1]
Articles:
ARTICLE: CONGRESS WEIGHS IN ON SHORTS
PRESS RELEASE: ROCKER PAYS $5 MILLION TO OVERSTOCK.COM TO SETTLE LAWSUIT