Mark Cohodes posted this to his "private" twitter: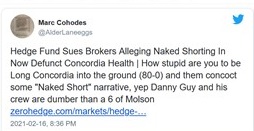 Robert Steele, intelligence professional, responded:
@AlderLaneeggs Bummer — you are climbing in the tag cloud at https://t.co/fHcO89SqIU. We have it all — every email, every text, every game chat and every single one of your banking transactions. Have a great day, Mr. C. @PatrickByrne

— Robert David Steele (@OSSRobertSteele) February 17, 2021
NOTE: Mr. Cohodes is believed to be well aware there were 50 million counterfeit shares. Evidence of both that fact and his knowledge of and engagement with that fact can be presented to a court court.  Mr. Cohodes should have  his day in court — in fact, he should have many days in many courts in CA, UK, and US. Tik tok, tik tok . . .
RELATED: