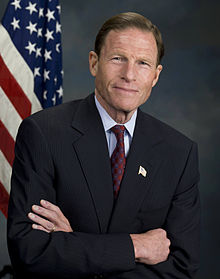 Richard Blumenthal  (/ˈbluːmənθɔːl/; born February 13, 1946) is an American attorney and politician currently serving as the senior United States Senator from Connecticut, a seat to which he was first elected in 2010. A member of the Democratic Party, he is ranked as one of the wealthiest members of the Senate, with a net worth of over $100 million. Previously, he served as Attorney General of Connecticut from 1991 to 2011.
Born in Brooklyn, New York, Blumenthal attended Riverdale Country School, a private school in the Bronx. He graduated from Harvard College, where he was editorial chairman of The Harvard Crimson. He studied for a year at Trinity College, Cambridge, in England before attending Yale Law School, where he was editor-in-chief of the Yale Law Journal. While at Yale, he was a classmate of Bill and Hillary Clinton. From 1970 to 1976, Blumenthal served in the United States Marine Corps Reserve, where he attained the rank of sergeant.
After law school, Blumenthal passed the bar and served as administrative assistant and law clerk for several Washington, D.C. figures. From 1977 to 1981, he was United States Attorney for the District of Connecticut. In the early 1980s he worked in private law practice, including serving as volunteer counsel for the NAACP Legal Defense Fund.
Articles:
Article: Has Wall Street Stolen $100 Trillion from the American Public? Will Donald Trump Get It Back?