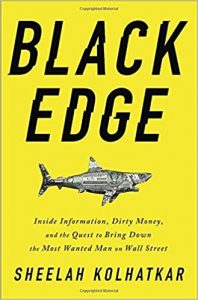 NEW YORK TIMES BESTSELLER • "An essential exposé of our times—a work that reveals the deep rot in our financial system . . . Everyone should read this book."—David Grann, author of Killers of the Flower Moon
The hedge fund industry changed Wall Street. Its pioneers didn't lay railroads, build factories, or invent new technologies. Rather, they made their billions through financial speculation, by placing bets in the market that turned out to be right more often than not.
In hedge fund circles, Steven A. Cohen was revered as one of the greatest traders who ever lived. But that image was shattered when his fund, SAC Capital, became the target of a seven-year government investigation. Prosecutors labeled SAC a "magnet for market cheaters" whose culture encouraged the relentless pursuit of "edge"—and even "black edge," which is inside information—and the firm was ultimately indicted and pleaded guilty to charges related to a vast insider trading scheme. Cohen, himself, however, was never charged. Black Edge is a riveting legal thriller that raises urgent questions about the power and wealth of those who sit at the pinnacle of high finance and how they have reshaped the economy.