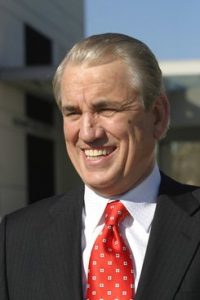 John Maurice O'Quinn (September 4, 1941 – October 29, 2009) was a Texas trial lawyer and founding partner of The O'Quinn Law Firm (formerly known as O'Quinn & Laminack). His firm made its business handling plaintiff's litigation, including representing clients suing breast implant manufacturers, medical facilities, and tobacco companies. In 2009, O'Quinn, along with his passenger, died in a single car crash in Houston, Texas.
O'Quinn graduated first in his class from the University of Houston Law Center in 1967, served as editor of the Houston Law Review, and won a state moot court championship.[2] O'Quinn was such an intellectual powerhouse that he was the first attorney hired from U of H by the law firm Baker Botts. O'Quinn was divorced and had no children. In 1999, the playing field at Robertson Stadium was named O'Quinn Field in honor of his generosity and support of the stadium renovations.[3] After the demolition of that stadium, the "O'Quinn Field" name was subsequently used for its successor, John O'Quinn Field at TDECU Stadium.
In the decade prior to his death, O'Quinn won, through settlement and/or verdicts, more than $20 billion for his clients.
University of Houston: John M. O'QuinnThe Consummate Cougar 1941–2009
Comment: His former partner and successor is Wes Christian, who has won over 15 major settlements against naked short sellers and is the lead attorney in a billion dollar lawsuit against major Wall Street banks and trading companies that are alleged to have cheated the public of $100 trillion dollars over the past quarter century.