Operation HAECHI-I intercepts $83M in online financial crimes
Help Net Security, 02 June 2021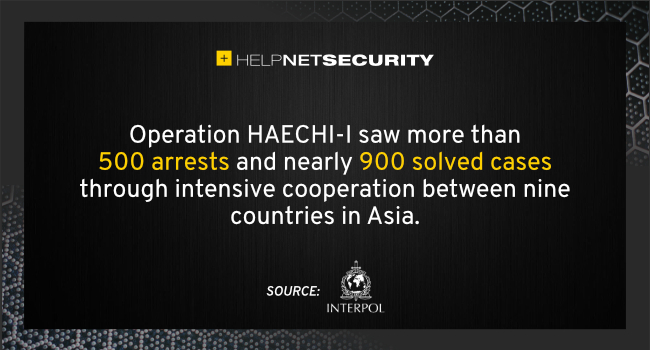 Amid an exponential increase in online fraud, an INTERPOL-coordinated operation codenamed HAECHI-I mobilized more than 40 specialized law enforcement officers across the Asia Pacific region. Over six months of coordinated intelligence collection and joint operations, police were able to intercept a total of $83 million in illicit funds transferred from victims to the perpetrators of cyber-enabled financial crime.
Officially concluding last week, Operation HAECHI-I focused particularly on five types of online financial crime: investment fraud, romance scams, money laundering associated with illegal online gambling, online sextortion and voice phishing.
More than 1600 frozen bank accounts during Operation HAECHI-I
More than 1400 investigations were opened during HAECHI-I's six-month operational phase (September 2020 – March 2021) – many of which remain ongoing – and 892 cases were solved.
While the operation focused on the Asia Pacific region, the borderless nature of these online crimes meant that investigations soon spread to include law enforcement on every continent. A total of 585 individuals were arrested and more than 1600 bank accounts around the world were frozen throughout the course of the operation.
Nearly 100 INTERPOL notices and diffusions were eventually published based on information gained during the operation.
"Online fraudsters often attempt to exploit the borderless nature of the Internet by targeting victims in other countries or transferring their illicit funds abroad," said Ilana de Wild, INTERPOL's Director of Organized and Emerging Crime.